Dr. Taylor led training programs and created resources to incorporate smart, safe yoga for the international yoga community. Smart Safe Yoga fostered intelligent, creative and mindful sources of information and tools for yoga teachers, students, yoga therapists and conventional medical professionals who want to incorporate yoga principles into their practices and studios. His leadership in the field of yoga safety and science made him an expert in yoga safety and injuries.
Personally, he can attribute yoga to both changing his life and easing his chronic back pain. 
How can he support you in practicing smart, safe yoga?
Details of Dr. Taylor's Yoga Expertise:
Yoga Training
Levels I & II of Phoenix Rising Yoga Therapy 1996

Integrative Yoga Therapy 1000 hrs "Masters" 1998

PhD, California Institute of Integral Studies, based on Sri Aurobindo's Integral Yoga philosophy; Dissertation: A Yoga-based Back School for People with Chronic Spine Pain 2006

Every Symposium of Yoga Therapy and Research (SYTAR) by IAYT.org since 2007.

Extensive workshop participation since 1997.

C-IAYT (Certified Yoga Therapist) November 2016

Veterans Yoga Project MRT training January 2017
Leadership
1999 bought the URL for the Yoga Alliance and built the first Yoga Alliance website (Not everything works out as we intend unfortunately).

Advisory Board of the International Association of Yoga Therapists since 2001.

Board of Directors of the International Association of Yoga Therapists 2007-2009.

President of the Board of Directors of the International Association of Yoga Therapists 2008-2009, during which time priority and funding were established for making the journal PubMed recognized, initiating the school and credentialing processes, and the online journal resource library.

SYTAR Planning Committee 2007-2009.

SYTAR Rehabilitation Common Interest Community director/co-director 2009-13, 2015.

Co-Administrator of the 1100+ yoga/rehab professional closed Facebook group 2011-present.

Advisory Board Member, Australian Association of Yoga Therapists, 2011-present.

2012-2013 National Osteoporosis Foundation Online and Conference presenter for "Safe Yoga with Osteoporosis."

August 2017 Appointed to the Integrative Healthcare Policy Consortium TaskForce for Chronic Pain/Opioid Abuse as the yoga representative.

September 2017 Released the free graduate healthcare student 15 wk online course for Integrating Yoga Therapeutics Into Rehabilitation with over 500 students from 5 continents and over 100 schools represented.

August 2017- present: IAYT representative in the Comprehensive Integrative Pain Management Policy Congress.

May 2019- present: Board of directors and treasurer of Accessible Yoga.
Research
Dissertation: A Yoga-based Back School for People with Chronic Spine Pain 2006.

Chaired the first research committee for IAYT which has now become the annual Symposium of Yoga Research (SYR).

Publication research for his authored publications in peer-reviewed journals/textbooks.

2007-2009, Courage Center 2-yr study for Organizational Change through Stress Reduction in collaboration with Matthew Sanford and Mind-Body Solutions of MN.

Peer reviewer for the International Journal of Yoga Therapy and numerous other publications.

Member of the 2012 University of Otago Delphi Project: Yoga for Musculoskeletal Conditions.

December 2015- present: One of six editorial board members for the PubMed indexed International Journal of Yoga Therapy .
Publications
Click here for his yoga publications.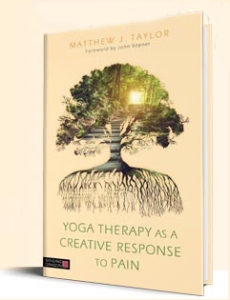 My new book, "Yoga Therapy as a Creative Response to Pain" is available here.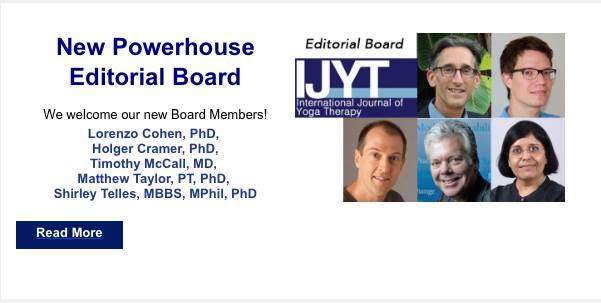 Plenary Address on The Future of Yoga Therapy Plenary address, June 11, 2016 at the Symposium on Yoga Therapy and Research in Reston, VA. www.sytar.org