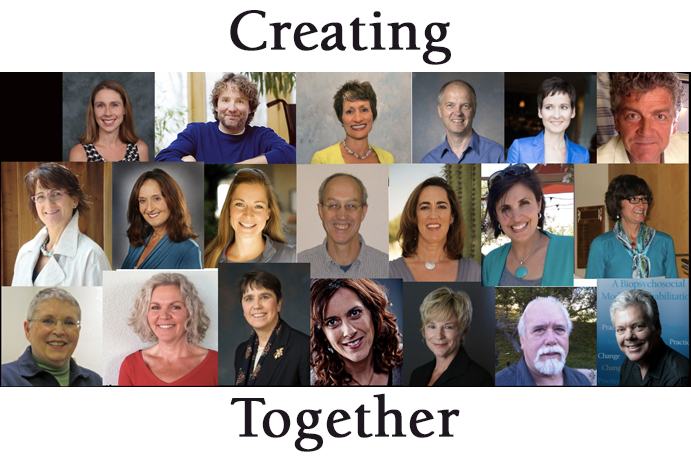 In order of appearance…
Alfonso Montuori, PhD is an educator, consultant, and musician. His transdisciplinary research has focused on the application of creativity research and complexity to better understand how to live in a complex, pluralistic, uncertain world. He is working on a book that outlines how our understanding and practice of creativity has changed in a networked world, and articulates a worldview in which creativity is a central, rather than peripheral, phenomenon. For more about Dr. Montuori, click here.
---
Matthew J. Taylor, PT, PhD, is the editor of this book and author of nine of the chapters. He is an international leader in integrative rehabilitation. His doctoral advisor and chair of his dissertation committee was Dr. Montuori, above. His passion is creativity and how it is enmeshed with health and development, both individually and organizationally. His Dynamic Systems Rehabilitation Method of rehabilitation provides practical, engaged processes for patients and providers. For more on Dr. Taylor, click here.
---
Matthew Sanford, MA, is a public speaker, healthcare pioneer, award‐winning author, and nationally recognized yoga teacher who has inspired and enhanced the lives of thousands. Sanford's experiences as a consumer of rehabilitation services are captured in his book , Waking: A memoir of trauma and transcendence. You can learn more here about Matthew and his important non-profit that is changing healthcare through mind-body awareness.
---
Staffan Elgelid, PT, PhD, GCFP, Dr. Elgelid is Associate Professor of Physical Therapy at Nazareth College. At Nazareth College he teaches health and wellness and is the co-director of the college's health and wellness programs. He has presented on a multitude of topics both nationally and internationally. He is also a Feldenkrais Practitioner and has been active in the Feldenkrais and Somatic Education community both at a national and international level. Staffan is on the IAYT Advisory Council, has published several articles in IAYT publications and holds a yoga therapy certification from the YogaLife Institute. Dr. Elgelid can be reached by email at [email protected] and his website is here.
---
Ginger Garner, PT, ATC, is a licensed physical therapist, professional yoga therapist, certified Pilates instructor, Ayurvedic lifestyle counselor, and registered yoga teacher (ERYT500). She has been a trailblazer for transformative physical therapy practice and education, using a biopsychosocial approach through the lens of interdisciplinary partnership, since 1995. She is a consultant at multiple universities throughout North America who have adopted her progressive medical therapeutic yoga curricula. She has been studying with Riane Eisler, JD and is on fire about the importance of relationships. Learn more about Ginger here.
---
Cheryl Van Demark, PT, MA,  is a yoga teacher, yoga therapist and physical therapist with a Master's degree in physical education and exercise science.  She is owner of Health In Motion LLC, a private therapeutic practice and Body Language Studio, a training center for mindful movement arts.  Cheryl has enjoyed over 30 years of helping individuals optimize alignment, restore movement, build strength and cultivate a balance in body, mind and spirit to pursue joyful living. Learn more about Cheryl here. 
---
Arlene Schmid, PhD, OTR, has been an occupational therapist for nearly 20 years. She received her doctoral training in rehabilitation sciences at the University of Florida and she completed her post-doctoral fellowship in the Indianapolis VA. Currently, Dr. Schmid is an associate professor in the Colorado State University Department of Occupational Therapy. Her research is focused on people with chronic stroke but she is now also focusing on fall prevention and improvement in balance and quality of life. Dr. Schmid is a leader in the study of yoga as a complement to rehabilitation therapies. Learn more about her work here.
---
Mary Lou Galantino, PT, PhD, MS, MSCE, is a professor of Physical Therapy at Richard Stockton College, New Jersey. She specializes in holistic health and rehabilitation and is the Coordinator of the Holistic Health Minor. Highlights of Dr. Galantino's scholarly activities include integrative therapies (yoga, meditation and tai chi) for various populations including cancer survivors, HIV and fall prevention in the elderly. As a result of her Fulbright Specialist Grant, she is currently working on population based research in HIV disability and exploring the impact of yoga on HIV neuropathy. Enjoy her TED talk here.
---
Sara M. Meeks, PT, MS, GCS, has been a physical therapist since 1962 and a Kripalu Yoga instructor since 1984. She has created an original, effective and safe movement/exercise program for improvement in body alignment. This clinically-successful program is for patients with osteoporosis, osteopenia, spinal stenosis, postural dysfunction, and chronic back pain. Sara present seminars to medical professionals and the public on this subject. Diagnosed with osteoporosis, her self-stated mission is to bring safety and therapeutic intent into exercise prescription for all people. Learn more about Sara here.
---
Michelle Garcia Winner, MA, CCC-SLP,is the founder of Social Thinking® which specializes in developing treatment models and specific strategies for helping persons with social cognitive learning challenges. She runs and works in her small clinic; has authored numerous books and speaks internationally. Michelle's goal is to help educators; psychologists, psychiatrists, mental health counselors and parents appreciate how social thinking and social skills is an integral part of students' academic, vocational and community success. She was honored with a "Congressional Special Recognition Award" in 2008. Learn more about Michelle here.
---
Carey Clark, RN, PhD, is a faculty member at the University of Maine Augusta and is developing a caring-holistic-integral curriculum for the RN- BSN program. Her published works have focused on the nursing shortage, caring in nursing education, complexity in nursing education, integral approaches to nursing education, and the use of a Partnership social model in nursing education. Dr. Clark's goals include ushering in a new era of caring-based practices in nursing, transforming health care systems, creating transpersonal states/ altered levels of consciousness, and supporting the growth of nurses striving to create sustainable, caring-healing practices and professional autonomy. Learn more about Carey here.
---
Beverly Price, RD, MA, CEDS, is CEO and Founder of Inner Door Center, is a nationally renowned Registered Dietitian, Exercise Physiologist, Registered Yoga Teacher and Certified Eating Disorder Specialist, credentialed by the International Association of Eating Disorder Professionals, who is recognized for her distinctive approach to mindfulness-based eating disorder recovery using yoga therapeutics as a tool. Beverly has created and cultivated the Reconnect with Food® program to benefit those struggling with eating disorders and co-occurring disorders, along with providing mental health services for her local, surrounding community. Learn more about Beverly here.
---
Renee van der Vennet, PhD, LCAT, LMHC, ATR-BC, CGP, has a Ph.D. in Human Services specializing in Professional Counseling. She is a Licensed Creative Arts Therapist (LCAT), Mental Health Counselor (LMHC), Board Certified Registered Art Therapist (ATR-BC), and a Certified Group Psychotherapist (CGP). She has worked as counselor, therapist and art therapist at various settings in Houston, Texas and Rochester, NY. Currently she is an Assistant Professor in the Creative Arts Therapy Department at Nazareth College in Rochester, NY. Her research interests include the areas of secondary trauma, burnout, dreams, creativity, and art therapy. Learn more about Renee here.
---
Marieke Van Puymbroeck, PhD, CTRS, FDRT, is a recreational therapist and rehabilitation scientist. She is the Recreational Therapy Coordinator at Clemson University and currently serves as the President of the National Academy of Recreational Therapists. Dr. Marieke's research interests are in the area of integrative medicine, primarily yoga, as a means to promote health and well-being for individuals with chronic disease and disability. Marieke finds creativity through yoga and gardening. Learn more about her here.
---
Robin Rio, MA, MT-BC, is a tenured associate professor and clinic director at Arizona State University. Before authoring, Connecting through Music with People with Dementia, she published articles highlighting her clinical work: with homeless adults (Nordic Journal of MT) youth offenders (MT Perspectives) and developing process-oriented therapy practice (Arts in Psychotherapy). She has recorded and performs with Synaptic Soul and Daughters of Harriet, and is co-founder of Strength-Based Improvisation Training for advanced practice therapists. Learn more about Robin here.
---
Diana Munger, PT, DPT, opened Desert PT in Phoenix, AZ as a place for holistic rehabilitation and wellness with a focus on pelvic physical therapy. She has extensive training in the fields of pelvic rehabilitation and yoga therapy. Her goal is to empower patients to take their rehabilitation into their own hands as they discover their personal path to wellness. When away from the office, Diana loves to spend time with her two young children, amazing husband, and four-legged, furry kiddos. Learn more about Diana here.
---
Jennifer Collins Taylor, MSW, is co-owner of MyRehab, LLC, the parent company of the Matthew J Taylor Institute (MJTI). She is a thought leader in death education and end of life support. Besides her end of life MSW, she is also a recorded musician, award-winning author and yoga therapist. Her entrepreneurial business, Living Life, Dying Death is a sister company to MJTI. She and Matt have been married since 1980 and continue to create together.
---
Charles Trull, MSW, PhD, is a medical social worker at the US Naval Hospital at Camp Pendleton, CA where he focuses on trauma recovery and geriatric care. As a doctoral classmate of Matthew's, the two spent many years together learning, causing "trouble" in the classrooms, and literally wrote their dissertations together (separate dissertations) in the northern woods of Arizona. Charlie he has explored many avenues of healing through ancient traditions, to include his extensive shamanic training from his Native American ancestry.
---
Sari Roth-Roemer, PhD, is a medical psychologist and the director of Intuitive Psychology, PLC, in Scottsdale, AZ. Her innovative perspective on the role of psychology and the brain highlights the intuitive powers of the mind, helping to teach people to listen more closely to their own intuition, and find balance in their lives. She lectures and presents at conferences and healthcare facilities across the country on topics of mind, body, spirit balance. Her current work explores the role of intuition and spirituality in the psychological healing process, as well as the practical application of recent scientific evidence linking mindful awareness and meditation to neural network changes in the brain. Learn more about Dr. Roth-Roemer here.
---
Jerry Gillon, PT, ATC, OCS, from Cedar Rapids, IA ran a successful PT business with his spouse for decades. Jerry's chapter illustrates a tremendous creative reserve that exists in we aging rehab professional boomers. We've done the conventional work and still have a fire to serve, but are ready for the next step. If we can harness that resource, there's no telling how we might transform society. Jerry is baking healthy bread for his community and quietly changing the world… but then that's J-man.
---
© 2020 Matthew J Taylor Institute. All rights reserved.