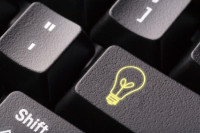 Creativity in Rehabilitation and Healthcare?
Try starting a conversation about creativity and healthcare at your next association meeting.
I have and sadly the topic often reverts to concerns about evidence and standardization of care, or at best some promising technology on the horizon. Never has the conversation started with an acknowledgement that creativity is sorely needed and "right now." What is needed is a deep and radical change… not some piecemeal band-aid patch job over the old systems. For instance, there is a dire need to change the way patients are treated in hospitals. Technologies should be introduced to encourage interactive patient care. No patient should feel like a prison during their stay at a hospital. They should feel like they are at home surrounded by people who care about them. However, to make this happen, the healthcare industry might first need to learn about the interactive patient care definition— what is it, and how can it be implemented? Only when they learn about this in detail and use creativity to make this a reality, will there be an original change.
Honestly, achieving this will not be a problem because technology can bring all the creative ideas to life and change the dreams into reality.
That said, my intention in this blog is to invite consideration of just this very mindset of both the urgency and depth of change that is required.
What's your response to reading the title, "Creativity in Rehabilitation and Healthcare"?

What questions does it raise for you?

Does it pique your interest?

Make you roll your eyes?
I'd love to hear below in the comments section.
In my travels as a national continuing education provider, I have the occasion to hear and see first-hand the challenges many of us face in delivering healthcare services (like those on this website) and education. Many of the larger system effects in our society have squelched our curiosity and passion, while reducing real income. Too often also dehumanizing what should be the very human, very creative experience of rehabilitation for both the consumer and provider. Specifically, this blog will address the following challenges and offer the potential benefits of:
1. Re-igniting the passion and curiosity that have been squelched by productivity loads, information glut, reimbursement models and so forth.
2. Through creative change preserve and increase real income in the face of school debt, inflation, and after-hour work requirements that are not compensated.
3. Restore a sense of sacred and human interchange to interactions that now feel superficial and profane compared to an initial vocational calling.
4. Generate a personal and collective resiliency for our own health and well-being to accommodate the continued accelerated pace of change in society.
5. Re-invigorate both academia and professional organizations through active participation to take bold and well-grounded steps in creating new delivery systems for care and education.
6. Making evidence-based medicine (EBM) a catalyst for substantive and dramatic change and evolution rather than small incremental adjustments to our knowledge base. Another one might be the extensive use of therapy along with medicines to treat patients suffering from various illnesses. Like how a rehab center like Roeland Park Kansas often does for the recovery and rehabilitation of alcohol-addicted people.
Beyond that I have very low expectations!
If this is a conversation you have been looking for, or just one in which you want to engage in constructive dialog to explore, please consider following my posts and connecting via social media. Please join me and the other creative collaborators at large that are creating the future of rehabilitation. I have enough gray hairs and sore shins to know what it takes to do something new and bold. Fortunately, I also have enough energy and passion to be more excited about the future than ever in my 34 year career.
Most of all, let's have fun again.
We are not here long, so let's be sure what we do is worthy of our unique, creative essence as human beings. Spread the word!